Press Releases
J.D. Power Names Arthur J. Gallagher & Co. "Highest in Customer Satisfaction Among Brokers for Large Commercial Insurance"
ITASCA, Ill., Dec. 14, 2015 /PRNewswire/ -- Arthur J. Gallagher & Co. (NYSE: AJG) announces that it has been recognized by J.D. Power for achieving the "Highest in customer satisfaction among brokers for Large Commercial Insurance" for 2015.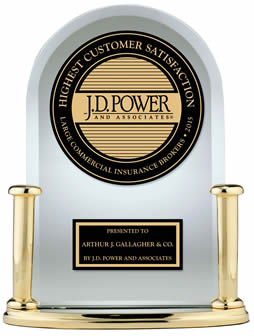 "We are both honored and grateful to have received this recognition from our clients for the quality of the services that we provide. Gallagher is committed to making a positive contribution to the ongoing success of the companies we have the privilege of serving, and our customers' vote of confidence inspires us to even greater levels of client service," said J. Patrick Gallagher, Jr., Arthur J. Gallagher & Co.'s Chairman, President and CEO. "This honor demonstrates the tireless work of our producers and client support professionals who are committed to becoming their clients' valued advisors and business partners. It is gratifying to see that their hard work and ongoing efforts are being recognized."
The 2015 Large Commercial Insurance Study provides an independent and objective measure of overall satisfaction among large commercial insurance risk professionals in the United States and Canada. The study is based on responses from nearly 1,300 risk professionals or employees who provide oversight for their organization or are members of their organization's risk management team. Organizations included in the study have at least $100 million in annual revenue or operating budget, and have purchased commercial property or workers' compensation insurance from one of the profiled insurers or brokers.
A description of the award and a full list of the 2015 criteria can be found at http://www.jdpower.com/press-releases/2015-large-commercial-insurance-study
Since 1968, organizations around the world have relied on J.D. Power as a trusted advisor for deep expertise in the industries they serve, advanced research science to drive consumer insights, and a proven success record for driving results.
About Arthur J. Gallagher & Co.
Arthur J. Gallagher & Co., an international insurance brokerage and risk management services firm, is headquartered in Itasca, Illinois, has operations in 31 countries and offers client service capabilities in more than 140 countries around the world through a network of correspondent brokers and consultants.
Contact: Anna Rozenich 
Vice President – Global Media Relations  
630.285.5954 or Anna_Rozenich@ajg.com
Photo - http://photos.prnewswire.com/prnh/20151214/295638
To view the original version on PR Newswire, visit:http://www.prnewswire.com/news-releases/jd-power-names-arthur-j-gallagher--co-highest-in-customer-satisfaction-among-brokers-for-large-commercial-insurance-300192429.html
SOURCE Arthur J. Gallagher & Co.